Spring Auction
Our annual Spring Auction is a wonderful community building event that raises funds for Beacon's annual operating expenses and the Beacon Bursary. Through the generous donations of community businesses and individuals, over 300 items and vouchers are available for purchase through the pre-auction, silent auction and live auction.
We hope you can join us Saturday, April 8th, 2017 for this great event!
Doors open at 6:30 pm. Don't forget your food for Community Care.
Click the picture below for details…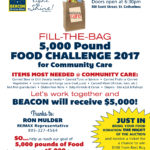 Here's the 2017 Spring Auction List for you to download.
More items will be available on "The Late List" available at the Auction.
If you can't make it to the Auction, we're hoping you can still support the Spring Auction Bursary Cash Match Challenge! This is an amazing opportunity to help raise $30,000 for Beacon's Bursary. Contact Darlene Teeuwsen at advancement@beaconchristian.org for more information.