Preschool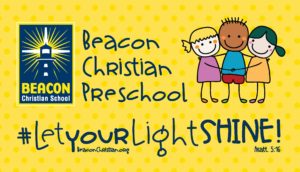 Beacon Christian School is excited to offer this exceptional educational component of our program! Enroll NOW to help your child enter JK with confidence the following year!

We are not currently running Preschool for the 2020-21 school year. Please contact us for enrolment information for September 2021. Children must be turning 3 by December 2021 and ready to enter JK in September 2022. Please contact advancement@beaconchristian.org  for more information or to enroll your child.
We offer 2 to 5 day programs:
2 Day program: Monday & Thursday – $160/month
2 Day program: Tuesday & Friday – $160/month
3 Day program: (add Wednesday to either above) – $240/month
4 Day program: (both 2 day programs – no Wednesday) – $320/month
5 Day program:  All mornings – $400/month
All Programs run from 8:30 am to 11:30 am each morning and include a nutritious snack.
Registration is ongoing based on availability. Limited to 16 students/day.