Mike's Miracles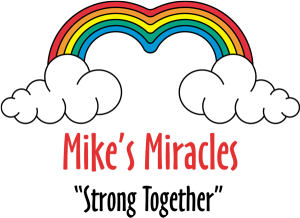 Mike's Miracles began with twelve year old Mike VandenDool's dream to raise money for a "New release" movie room for children at McMaster Children's Hospital.
Mike was so appreciative of the kindness of others while on his own cancer journey that he wanted to give back to the community. Knowing first hand what it was like to go through this experience, Mike wanted to make the road easier for other children and at the same time give them the opportunity to have fun with their families.
"Mike's Miracles" is not about any miracles that Mike performed, but rather it is about the miracles that took place in his life while on his cancer journey. Through the kindness and generosity of so many organizations, schools, companies and individuals, Mike was truly blessed. He wanted to pass these blessings on to others.
Mike, with the help of his mother Terri and his Uncle Rob designed the "Mike's Miracles" logo. The rainbow, which is in the shape of an "M", separates two clouds and symbolizes hope. It is also half a heart which to Mike symbolized that the work was never done. "Strong Together" was the theme our family used during Mike's illness. We were "Strong Together" with God, as a family, with our friends, our church, our school and with our community.
Throughout his own cancer journey, Mike had the heart to think of other sick children and their families. On April 26, 2008, Mike passed away after his 17month battle with cancer. His family and friends promised to carry on the work that he began.
Through the generosity of so many people and our partnerships with them, some of the things "Mike's Miracles" has been able to provide are:
A $50,000 Movie room sponsorship & equipment donated to Ronald McDonald House, Hamilton, and McMaster Children's Hospital in Hamilton.
3 sailboats, 25 canoes and two beautiful docks donated to Camp Trillium (A camp for kids battling cancer and the families that support them)
Over $65,000 donated to 14 Ronald McDonald Houses across Canada
Over $30,000 donated locally to the Rankin Cancer Run in Niagara
Christmas toy drives for McMaster Children's Hospital & other local hospitals
Over 1000 "Tigger" stuffed animals (The Mike's Miracles mascot) donated to children who are sick or in need.
Thank you for supporting "Mike's Miracles". Your donations will be used wisely to enhance the comfort and enjoyment of life for children living with cancer and their families who support them.
Brian, Terri and Brandon VandenDool